Show Blog Widgets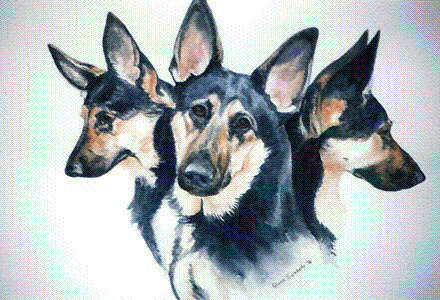 Life Lessons
All of life is a learning experience, and being an artist brings its own series of lessons.
A long, long time ago, in a land far, far away I was contacted about painting a pet portrait as a gift for a woman's husband. We agreed that she would bring the German Shepherd to me to photograph. It was a snowy day, but for some reason I was outside as she drove up. From several hundred feet away I could hear the dog barking inside the approaching car. As she got out, the young dog jumped over her in his haste to exit the car. Since she was holding his leash, this caused her to spin around and bump the car door shut, thereby locking the keys inside.
It quickly became apparent she had no control over the dog, so I put him in a crate while we tried to unlock her car with a coat-hanger. The weather wasn't helping, so we all went inside, her to call a locksmith, and me to photograph the dog. He settled down quickly and I was able to get several nice photos.
We then discussed the size and medium of the portrait. She pleaded a tight budget, so I gave her a very good price. Later, she was very pleased with the finished portrait and planned to have it framed in time to present to her husband. Several months afterwards I happened to be speaking with an artist friend who also ran a frame shop. He commented on the fact that he'd recently framed the portrait and how nicely it had turned out. He told me what the lady had spent on the framing, and to my surprise and chagrin, it was much more than I'd charged her for painting the portrait in the first place!
Oh, about the keys locked in the car? A neighbor came in through the garage to ask if he could borrow some tools, and just casually mentioned that he'd spotted the coat-hanger on the car roof, and used it to unlock the door.
Weekly Newsletter Sign Up
I'd like to invite you to sign-up for my weekly newsletter.
In addition to thoughts about being an artist, a first peak at new paintings, notices of shows, events, and workshops, it also contains art tips and ideas.
Click: 'Email Newsletter' on the navigation bar at left.